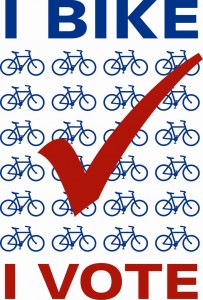 Here's one of the coolest things about the survey Bike Delaware (along with partners Sussex Outdoors and Delaware Greenways) is conducting of all candidates running for the General Assembly: just one call or email from just a single constituent is usually enough to get a candidate to respond. If a candidate tells you he/she hasn't seen the survey, you can give him/her this link:
http://www.bikede.org/wp-content/uploads/2012/09/2012_GA_Gov_Survey_Web.pdf
Candidates can email their answers to survey@bikede.org. But they have to return their answers by Wednesday, when the survey closes!
Have the candidates running this year to represent you in the Delaware General Assembly answered the bicycling survey they were mailed? We need you to ask! This is especially true for candidates running unopposed in their races. We need your help in getting their attention!
Not sure who the candidates running to represent you are? That's easy. Here's how to find out in 2 easy steps:
1)Look up your Senate and Rep district number HERE.
2) Look up the Senate and Rep candidates for those districts HERE.
(Or you can just email your name and zip code to us and we'll email you back with the names and contact info for your candidates.)

Then: Email! Call! Ask the candidates running to represent you if they've answered the bicycling survey. There's no way for them to know what's important to the people in their district unless you tell them. And if they don't know what's important to their constituents, how can they do their job?
Help our elected representatives. And help make this election matter for bicycling.