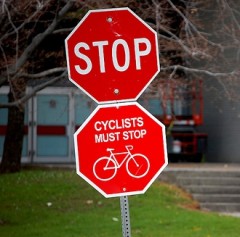 Nobody understands momentum better than cyclists.
The physical concept of momentum – the product of an object's mass and velocity – can be a bit abstract to many people, but cyclists understand momentum in our bones.  (Or perhaps I should say we understand it in our thighs.)
Even a strong cyclist can only produce about 100 watts of steady power to propel herself on a bicycle. (A motor vehicle can produce 100,000 watts.) And stopping and starting at frequent stop signs wastes our precious momentum and squanders the limited power that we have available. That's why even the most otherwise law-abiding cyclist may break the law a dozen times or more on a long ride by not coming to a complete stop at stop signs.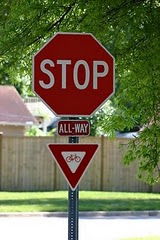 For cyclists in Delaware, however, momentum also has a political meaning. Back in July of 2011, just a few days after the Delaware General Assembly gave bicyclists our first big funding victory ($5 million for state bike routes and $2 million for the Castle C&D Canal Trail), two members of the Delaware General Assembly gave me, almost word for word, the same advice: "Whatever you do, don't lose your momentum."  They weren't talking about stop signs! They were talking about political momentum.
Here in Delaware cycling has more political momentum than any other state in the country. But each new year's budget process is like a series of stop signs that could drain all that momentum away. Just because we won $13.25 million last year is no guarantee we will get any additional funding in the state's budget this year. Indeed, because of DelDOT's debt reduction program, the Department's capital budget is under tremendous pressure and is projected to shrink by around 20%, or perhaps even more. In most other states in the country, that would simply be the end of bike/ped funding: it would get squeezed out to make way for an extra road project. And that could happen here in Delaware, too. But we'll have a better sense of how this may play out by tomorrow when Governor Markell gives his budget address.
Stay tuned.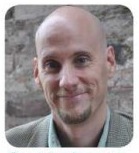 James Wilson is the executive director of Bike Delaware.
RELATED:
• "State Authorized Funding for Bicycling Improvements" Tops 2013 Vote
• Proposed DelDOT Capital Budget Down 16%
• Two State of the State speeches in a row
• Reason #5: Because cycling projects create many more jobs than road projects