Three days short of a year after Bob Wheeler died tragically, after being hit by a car while out on a recreational ride, a new area in the Smyrna Memorial Garden was dedicated.  On June 25, six WCBC/Bike DE members, Amy Wilburn (chair of the Delaware Bicycle Council), and Anthony Aglio and Jim Westhoff from DelDOT met at the Memorial Garden to place a sign identifying an area as a Bike Memorial.  In addition, we placed a brick along the sidewalk "In Memory of Bob Wheeler – June 28, 2012."
I shared a few thoughts at the dedication of the memorial.
"Bob was a giant when it came to bicycling and the White Clay Bicycle Club.    He was a founding member of WCBC in the 1970's, and contributed to the development of some of the major rides.  More recently, Bob helped us learn how to use the GPS, taught us how to make cue sheets using his tool "Googly Cue", searched out shady roads to ride on hot days and bike paths tucked away in secluded corners, and he shared cue sheets on his website.  He fixed our bikes, sometimes in his home shop but often on the road, adjusting brakes, replacing gear cables, changing tires.  At the time of his death, Bob was 81 years old, but still riding strong.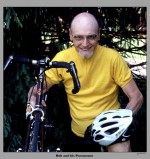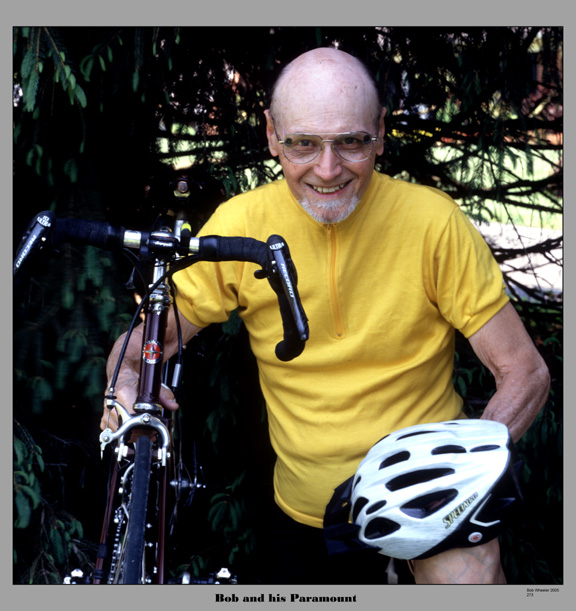 "If Bob had been invited to the dedication ceremony, he probably wouldn't have come.  He was not sentimental and certainly not religious.  He never had a funeral ceremony for his wife when she passed away several years ago, saying that he "lost" her years before due to multiple health problems.  He was a very practical, precise, matter-of-fact statistician.
"But memorials like the one we dedicated on June 25 are for the survivors and future generations to remember those who came before us.  Wherever he is, whether it's inside a server delivering web pages, or up there somewhere, or showing us the way from his cue sheets, his GPS instructions and his bike mechanic lessons, Bob lives on within each of us.  Let's each strive to honor him by sharing his legacy with other cyclists."
WCBC will be planning one or more bike rides to the Smyrna Rest Stop, so cyclists can see the new Bike Memorial.  Check the WCBC Ride Calendar for the first ride, probably in August: https://www.huntcal.com/cal/view/WCBC/WCBC.
Thanks are due to:
Gail Robillard, Bike Delaware and WCBC member, who tirelessly kept after DelDOT to get approval for the memorial and to get it implemented
Amy Wilburn and the Delaware Bicycle Council, for funding the sign for the Bike Memorial
Anthony Aglio, Bike Coordinator at DelDOT, for keeping things moving and making sure the Bike Memorial was created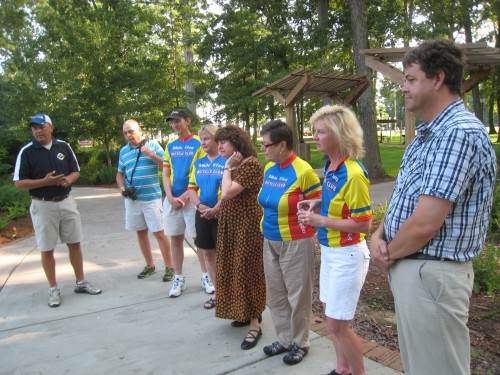 L to R: Anthony Aglio (DelDOT), Ted Ryser, Bob Siegwarth and Darree Clark (all WCBC), Amy Wilburn (Delaware Bicycle Council), Gail Robillard and Cindy Mannis (Bike Delaware and WCBC), Jim Westhoff (DelDOT)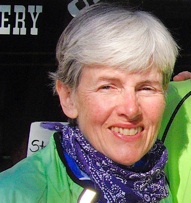 Carol Ireland is the secretary of Bike Delaware.
RELATED:
• First Motorist Sentenced Under Delaware's Vulnerable User Law