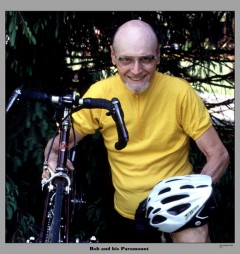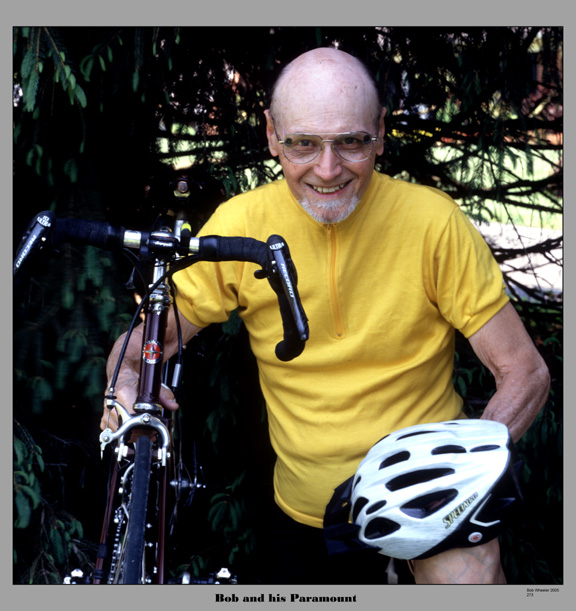 By Carol Ireland, President, White Clay Bicycle Club –
Yesterday, one of our own passed away.  He was doing what he loved and what brought him in contact with people who cared dearly for him.  A slim cyclist, he was dwarfed by the car that hit him.  But Bob Wheeler was a giant when it came to bicycling and the White Clay Bicycle Club.  Bob helped us learn how to use the GPS, taught us how to make cue sheets using his tool "Googly Cue", searched out shady roads to ride on hot days and bike paths tucked away in secluded corners, and he shared cue sheets on his website.  He fixed our bikes, sometimes in his home shop but often on the road, adjusting brakes, replacing gear cables, changing tires.  He may be gone in body, but his spirit will live on in so many of us.
Darree Clark and I were on the ride with Bob when this accident occured. Bob's daughter has been contacted, and we will share information about plans for a service when we know more. We will miss him.
Story in the Wilmington News Journal | Bob Wheeler Bicycling | WCBC on Facebook
Quotes from Bob's fellow WCBC riding companions and friends:
– So sorry to hear this. It's just terrible. Prayers for the family, and I'm so incredibly sorry for you having to be there.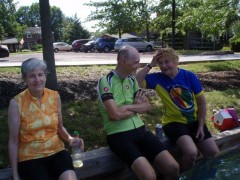 – I didn't know Bob,  but I enjoyed reading his writings on his website. He was a very smart individual. Here is a link to his site where he has posted some of his photography  (thought i would share the link because it's easy to miss on his site). Our condolences to his family and friends.
– We are so sorry to hear about Bob.  Our thoughts and prayers go out to his family and also to you and Darree.  We are thankful that he was with his friends today.
– This is indeed sad news and a great loss to our club and the cycling community. Bob was one of the nicest persons you could ever come across and  made an immense contribution to WCBC over the years. We are certainly going to miss him.
– Bob…….a kind, gentle man…..on and off the road……I will miss him……
– Bob was a kind and gentle man. He was  brilliant, highly creative, intuitive, a great teacher, dedicated to WCBC and gave so much to Others. I enjoyed his photographs, he was talented at "capturing the moment". But what I will miss besides his presence is his quiet sense of humor and his laugh.
– This is so sad. I was just on his group ride last Saturday that he led. He will be greatly missed. My prayers go out to his family.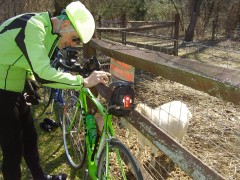 – Right now it is early morning, rainy and gloomy outside, which matches my sadness as I read the news about Bob Wheeler. I joined him and Darree for a few rides earlier this year and called him the "Green Hornet" for his bright green jacket and bike–he was very safety aware. I mostly I knew Bob for his tech savy when it came to computers, website design and cameras.  His photos were superb and he knew a lot more about PhotoShop than I did. Whenever I had a problem, he was one of the first to respond, often with practical, cheap ways to take care of it. I'm surprised to learn that he was 80 years old, his mind so sharp and still going so strong on the bike. For me, he is a role model, a person with the right attitude about life. Bob gave so much to WCBC and I'm going to miss his support, his smile, on and off the bike.
– I was so sorry to hear the news this morning. My sincere condolence to his family and all of you who rode and interacted with Bob.
– I admired Bob and told more than one family member that I should be doing what Bob does when I reach his age.  I don't think Bob knew what aging meant, out on his bike or working with technology he was a real role model.
– My prayers and consolences to his family and friends. Bob was one of those people even if you did not know him personally you knew him by name. He gave so much of himself to others. His – in life is truely about a person who I look up too. I will miss him.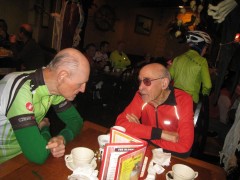 – I didn't know Bob but enjoyed all of his emails and his website.  My mom passed away yesterday … maybe he can teach her how to ride a bike … she never learned. Rest in Peace, Bob.
– I did not know Bob personally, but I am grateful for his love of cycling and his dedication to our club and its members.  My condolences go out to his family and those of you who called him "friend".  I believe he will be greatly missed.
– Bob was one of the 1st to offer his support to the ADA Tour de Cure when we came begging help for our new charity ride. Here at American Diabetes Association and speaking for the Volunteer Tour de Cure Committee; we will miss Bob's contribution and are deeply saddened to hear of his passing. Thank you Carol for your words that help put this tragedy into perspective. Yes gone in body but his spirit lives on with all who's lives he touched.
Poster's note: I didn't know Bob very well and seldom rode with him, but his contributions to bicycling are immeasurable. And with the power of the internet, these traveled well beyond Delaware's borders. This is a tragic loss for the White Clay Bicycle club and everyone that knew Bob.
RELATED:
• 16% of Traffic Fatalities in Delaware Are Pedestrians and Bicyclists
• Traffic Safety Facts : Bicyclists and Other Cyclists