"I've never been a fan of having anything named after me. I feel like it's the beginning of the end. But if you're going to have something named for you, this is as good as it gets." – Mike Castle, October 18, 2013
"Each time we open a new trail, we are a step closer to our vision of a statewide trails network that will allow residents and visitors to see Delaware's natural beauty up close, connect local businesses with new visitors, and link our communities. As a cyclist, I look forward to adding the Michael N. Castle Trail to my list of favorite places to ride." – Governor Jack Markell, October 18, 2013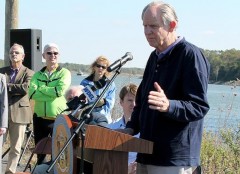 Former U.S. congressman and Delaware governor Mike Castle participated in a ceremony on Friday officially opening the nine mile first phase of a trail along the Chesapeake and Delaware Canal that will eventually stretch all the way from Delaware City to the Maryland border and Chesapeake City. The first phase extends from just west of Delaware City to the Summit North Marina.
Anytime a big project likes this gets done, there are a lot of people who deserve thanks. Former congressman Castle, who worked to secure the federal funding that made the project possible, is only the first. His longtime aide Jeff Dayton also deserves recognition and thanks for the many years that he championed this project behind the scenes. Congressman Castle said at Friday's ceremony that if it was up to him the trail would be named the "Castle and Dayton Trail". (That would make it the "C&D Trail at the C&D Canal".)
As important as the federal role in supporting this project was, however, ultimately it was not enough. The federal funds that Congressman Castle secured were not sufficient for the project to go to construction. Worse, because of the delay, Delaware was in jeopardy of losing the federal funding that Congressman Castle had secured. At that point, in 2011, Senator Chris Coons, a longtime supporter of the project when he was New Castle County Executive, took a personal interest. He strongly advocated that the state provide the additional $2 million needed for the project. Governor Jack Markell and the Delaware General Assembly agreed and the project, after so many years of delays, was finally able to move forward.
Finally, both DNREC staff (who worked hard to reconcile the various recreational interests involved in the area) and DelDOT staff (who actually got it built) also deserve both recognition and thanks. If you run into anyone from DNREC or DelDOT, or Congressman Castle, Jeff Dayton, Senator Coons or Governor Markell, shake their hand, look them in the eye and say "thank you."
 RELATED:
• Mike Castle dedicates Delaware's first leg of C&D Canal bike trail (News Journal)
• See the World-Class Statewide Network of Pathways and Trails DelDOT and DNREC Propose to Build