"You can't make people use streets they have no reason to use. You can't make people watch streets they do not want to watch. Safety on the streets by surveillance and mutual policing of one another sounds grim, but in real life it is not grim. The safety of the street works best, most casually, and with least frequent taint of hostility or suspicion precisely where people are using and most enjoying the streets voluntarily and are least conscious, normally, that they are policing." – Jane Jacobs, The Death and Life of Great American Cities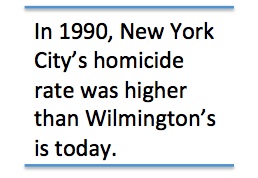 Today, New York City excites both admiration and envy for its wealth and quality of life. It is also notable for its low levels of crime. In city of over 8 million people, there were 414 murders last year. That works out to 5 homicides for every 100,000 people.
By way of contrast Delaware's largest city, Wilmington, had a murder rate in 2012 more than 5 times higher than New York's.
But in 1990 – just 23 years ago – New York's homicide rate was higher than Wilmington's is today.
Effective policing is only part of the story of New York's 80% decline in murders. As Jane Jacobs observed in the Death and Life of Great American Cities, formal "policing" (by actual police) is essentially the last resort. The most effective policing is done, naturally, by everyday people simply going about their business on the street. New York's vibrant street life is part of the story of its decline in murders though its relative contribution is hard to delineate because of the simultaneous changes in police practice.
West Palm Beach, Florida
In other places, however, the importance of traffic calming as a strategy to promote vibrant street life and prevent crime is not entangled with other factors. West Palm Beach in Florida, a city almost exactly the same size (80,000) as the city of Wilmington, offers a particularly clear example:
"Traffic calming in West Palm Beach was initially used as a response to resident complaints of motor vehicle speeding, cut-through motor vehicle traffic, and the overall negative perception of drivers' behavior within their neighborhoods. The City soon found that the traffic calming projects had additional external benefits. One of which was a reduction of crimes related to poor street environments (e.g. prostitution and drugs).
"Traffic calming caused several phases of the revitalization cycle to occur which resulted in a reduction in the aforementioned crimes and the rejuvenation of depressed commercial corridors and inner-city neighborhoods. First, the projects physically altered driver behavior, leading to slower, more respectful motorists and reduced the amount of cut-through or non-neighborhood traffic within the older inner-city neighborhoods. The reduction in speeds and of the perceived dangers of the vehicles lead to increased natural surveillance through the presence of more pedestrians, cyclists, and in-line skaters. Existing residents and businesses invested in renovations and property improvements. The increases in neighborhood pride and the increase of natural surveillance led to the return of more businesses and residents. All of which continues to snowball and contribute to the reduction in street crime within the areas of study."  [Lockwood and Stillings]
A Traffic Calming Strategy For Wilmington
Why not start traffic calming lots of intersections in the city of Wilmington tomorrow? Lots of reasons, starting with funding, politics and traffic engineers (who are  not always the biggest fans of re-designing streets with the explicit goal of actually slowing cars and trucks). But we need to start somewhere. And the best place to start, in my opinion, is a "neighborway" (with very little motor vehicle traffic) that connects city neighborhoods with downtown Wilmington.
Like a lot of the best ideas in public policy, a neighborway addresses multiple public priorities simultaneously. It's a particular type of traffic calming that creates a more vibrant street and also creates a low traffic stress bicycle route that appeals to casual and inexperienced cyclists to cycle for everyday, routine transportation. It's a strategy for Wilmington to start to create a more vibrant and appealing built environment and a more multi-modal transportation system while, simultaneously, reaping the public safety dividends of increased "natural surveillance."
Let us know in the comments section below what you think of a traffic-calmed "neighborway" for Wilmington. Would you use a neighborway to get around in Wilmington on a bike? We'll pass your comments along to city staff.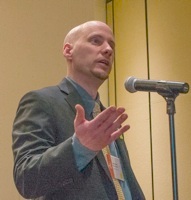 James Wilson is the executive director of Bike Delaware.
RELATED: 
• How to Make a Great "Neighborway" in Wilmington
• West Palm Beach Traffic Calming
• A New Way of Understanding "Eyes on the Street"
• Fight Street Crime with Speed Bumps and Crosswalks
• Jane Jacobs on neighborhoods, placemaking, and active living