June 14, 2014 – Bear, Delaware
With happy students from Wilbur and Southern Elementary Schools looking on, Governor Jack Markell signed a bill on Saturday to make cycling the Official Sport of Delaware.
The prime sponsors of House Bill 235 were Representative Valerie Longhurst, Senator Nicole Poore and Senator David Sokola. Additional sponsors were Reps. Gerald Brady and Debra Heffernan; and Sens. Brian Bushweller, Catherine Cloutier and Margaret Henry.
Critical momentum for House Bill 235 came from expert witnesses from Wilbur Elementary School in Bear, who testified in January to the Administration Committee of the Delaware House of Representatives in favor of the bill. The witnesses told the committee that there were many benefits of cycling:
"It is more efficient than a car."
"It will help people lose weight."
"Riding a bike makes your muscles, heart and lungs stronger."
"You can be active instead of just sitting around doing nothing."
"You don't use any gas."
"It can be done year round…you can layer up and be good to go."
"Riding bikes instead of driving makes the state cleaner."
Most importantly, as one witness noted, riding a bike is "awesome."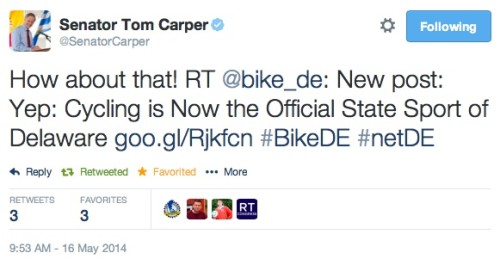 RELATED:
• Announcement on Governor Markell's Facebook page
• Littlest lawmakers push cycling bill (News Journal)
• The Fourth Most Bicycle Friendly State in America
• Markell and Denn: "We are going to help make Delaware the most bicycle friendly state in America."
• Longhurst and Colleagues Fought for Trail Network Funding
• Representative Valerie Longhurst (facebook)
• Senator Nicole Poore (facebook)