Throughout his entire time in office as Governor – and in, fact, even before he became Governor – Jack Markell has led an annual "Tour de Delaware." Now he is leading his last one as governor.
Whether you've ridden each of the previous nine Tours with him or this will be your first one, this will be your last chance to see Delaware by bike with America's most bicycle-friendly governor.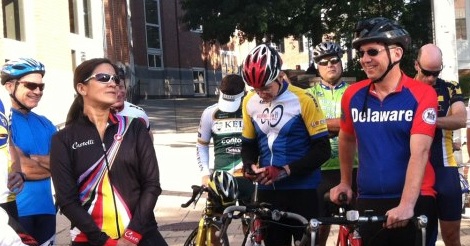 WHAT: Governor Jack Markell's 10th Annual "Tour de Delaware"
WHEN: Sunday, October 16, 2015 starting at 8:00 a.m.
WHERE: Starting and ending in Dover. Route TBD but – based on prior years – probably a ~50ish mile loop.
In May, Governor Markell received Delaware's highest award for service to cycling, only ever awarded twice before: the Golden Bicycle Helmet. Check out this slideshow to see why he is America's most bicycle-friendly governor, with a record that Delaware's next governor will have to work very hard to match: