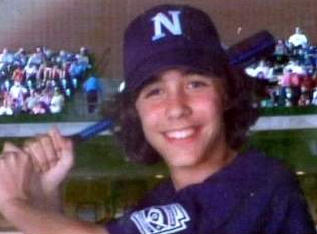 We remember Michael Gropp, who was killed 1 year ago today at the intersection of Rt. 273 and Brownleaf. Michael and his girlfriend lived on opposite sides of Rt. 273, an 82 foot wide, 4 lane arterial road in east Newark. Michael was walking her home at 10PM on April 6, 2010 when he was struck and killed while trying to cross Rt. 273. Michael was 16 years old.
Brownleaf Rd where it crosses Rt. 273 here is also Delaware Bicycle Route 1.
After Michael's death, Bike Delaware wrote a report on pedestrian safety at arterial road signalized interesections. The report recommended
• "hot-response" pedestrian-friendly traffic signals
• median refuge islands
• lighting
as standard treatments for similar intersections.
After Michael's death, DelDOT upgraded the intersection with crosswalks on all 4 sides, along with the standard button activated walk/don't walk pedestrian signalization. Though these treatments did not meet the report's recommendations, the installation of pedestrian signals is a notable improvement and permits the implementation of 'hot response' timing should a decision to do so ever be made.
Read Bike Delaware's report on safety at arterial road signalized intersections HERE.
RELATED:
• Improving Nonmotorized Safety and Mobility with Infrastructure at Arterial Road Signalized Intersections
• 16 year old killed while crossing Rt.273 on Bike Rt.1
• Another Pedestrian Struck at Rt. 273 and Brownleaf Road
• Who Will We Blame This Time?