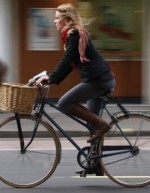 Cycling in the Netherlands was on its way out.  But in the 1970s cycling's long decline first slowed, and then reversed.
Today, in Amsterdam and other Dutch cities, more people get to work by bicycle than by any other mode.
Does this have anything to do with the U.S., or Delaware?  Maybe not.  But it's still pretty cool.  Check out this 7 minute video on how the Dutch saved cycling:
RELATED:
• How the Dutch Handle the Right Turn Only Lane Problem
• "Build it and they will come" proven by the Dutch
• Crash Liability – the Dutch View
• What defines Dutch cycling (VIDEO)?