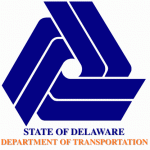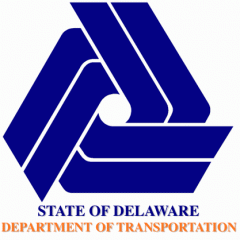 In the proposed FY14 Delaware capital authorization bill recently released (Senate Bill #15), the Bike and Pedestrian Improvements program authorization has been cut to zero.
This program was funded at $10.25 million in the FY13 capital authorization passed last year (House Bill #410).  (That earlier authorization is not changed by SB15; the Department of Transportation can still spend those previously authorized funds.)
Overall state and federal proposed authorization for DelDOT this year is $389 million which, if approved by the General Assembly in June, would be an increase of a little less than 3% over last year's state and federal authorization of $379 million.
The General Assembly will consider this proposal over the next few months, and will vote on a final bill on June 30.
Even if the General Assembly rejects this proposal and decides this year to again fully fund the Bike and Pedestrian Improvements program at $10 million, that would still only represent 2 1/2 percent of DelDOT's capital budget. (In contrast, around 25% of traffic fatalities in Delaware are pedestrians and bicyclists.)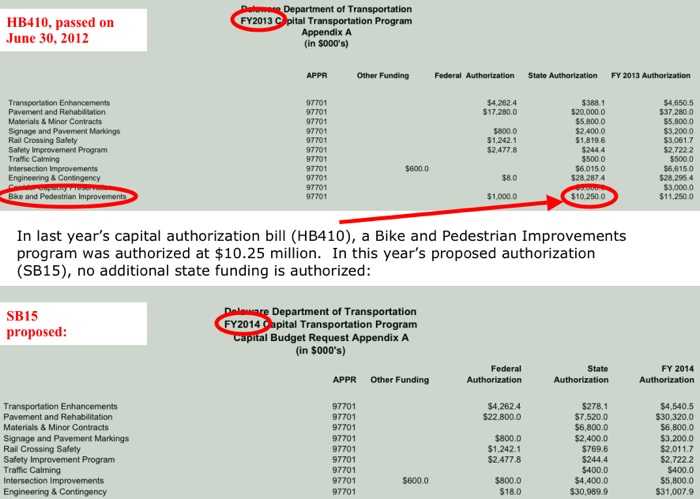 "State Authorized Funding for Bicycling Improvements" was the top vote getter at Bike Delaware's Strategic Vision 2013 conference in November, and also in online voting.
RELATED:
• "State Authorized Funding for Bicycling Improvements" Tops 2013 Vote
• Authorize. Program. Spend. (A Very Short Guide to Transportation Funding for Cycling Projects)
• Delaware Senate Concurrent Resolution #13