by Randy and Trish Freed
February 25, 2013
Manassas, Virginia – We are out-of-staters who are now investing in Delaware real estate. In January, we signed a contract for a new house to be built in Lewes, and we can tell you that one of the key features that made us decide to "seal the deal" for a house there (The Villages at Red Mill Pond, adjacent to the railway right-of-way just north of Route 9) was the prospect of the Georgetown to Lewes Trail.
Though we understand that this project is not a sure thing, we read the information on the state web site and newspaper accounts of public hearings, and based on that information it seemed like most of the planning and basic appropriating had been done, and there's broad public support for the program.  Thus, we figured that this project makes so much sense that it had to happen.  Given that our recent decision is proof positive that pathways like this have economic benefits for Delaware, we wanted to recount some of the factors that influenced us, as these factors are likely to influence a lot of others like us.
Over the years, we have visited the beaches up and down the DelMarVa peninsula. Anyone who's visited those beaches in the summer knows that the traffic congestion is a major disadvantage.  The possibility of biking (safely) to the beach – represented by the Georgetown to Lewes trail – is an enormous draw.  It would cut down on congestion and allow access to what is probably the finest beach in the region, Cape Henlopen State Park.  Within the park, the biking trails are already excellent, but there's currently no way to get to them from inland other than to drive to the park itself or to try to find a place to park your vehicle and to then take your life in your hands by biking on roads shared with thousands of cars and trucks.
The availability of recreational resources is an important factor in choosing where to live.  One of the things that drew us to the Lewes area is the fine Junction – Breakwater trail that already exists.  We've ridden on that multi-use trail a number of times, and it's obvious that many others find it to be an outstanding resource.

If built, the Georgetown to Lewes Trail would connect seamlessly to the Junction-Breakwater Trail (shown here) that connects Lewes and Rehoboth Beach
Though we have some friends who are avid bikers, we consider our biking interests to be much more mainstream – we're in our late 50s/early 60s and are drawn to the prospect of easy biking on relatively flat land, which gives aging bodies good, low-impact exercise.  In order to stay in good health at our age, we need to keep moving, and we believe that lots of others in our age cohort will be attracted to a bike trail for much the same reason.  Along those lines, the health benefits of exercise would surely offset some of the health care costs in the state, which must be one of the biggest drains on the state's (and country's) economy.
In the metropolitan Washington area, where we live, the Old Dominion Rails-to-Trails project has stimulated a lot of development in a "smart growth" way all along the trail, enabling a lot of people to commute by bike and to enjoy recreational biking on the trail.  The Georgetown-Lewes project would likely have similar positive economic results – it would open a new corridor for people to get access to the natural resources and commerce along Delaware's coast, without adding to the congestion problem.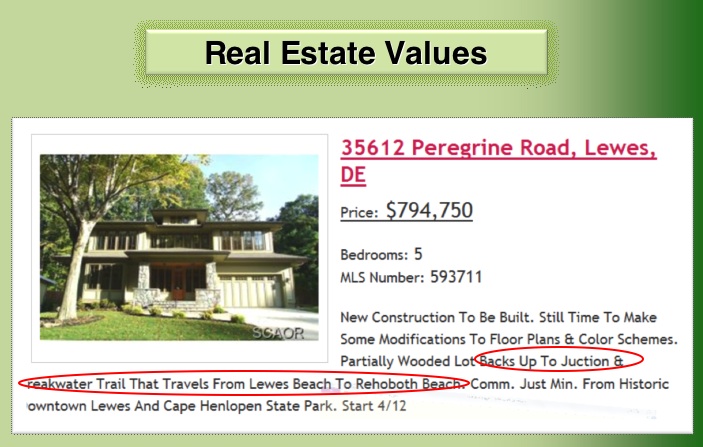 Proximity to the Junction & Breakwater Trail is highly desired. When was the last time you saw immediate proximity to a road advertised in a real estate ad for a house?
In short, we are about to make a significant investment in Delaware's economy and we can tell you that the plan for a Georgetown to Lewes Trail has definitely been a factor in our decisionmaking. We believe that it will matter to many others.  In this age of partisan politics, this seems like the kind of common-sense, low-cost infrastructure investment that everyone should appreciate.  We encourage the state to move ahead with its thoughtful approach to transportation and recreation planning, and to build the Georgetown to Lewes Trail.
RELATED:
• Will the Delaware General Assembly Vote For Bike and Pedestrian Improvements This Year?
• Sussex County Council Includes Lewes-to-Georgetown In Its List of Transportation Priorities
• Public Prefers Rail-With-Trail for Lewes-Georgetown Route at DelDOT Workshop
• Lewes to Georgetown Route is Overdue