In Israel a few weeks back promoting Delaware business, Governor Markell rented a "Tel-O-Fun" bike to ride along the Mediterranean Sea and the Yarkon River. In Vermont this week, he biked the Island Line Trail:
Our governor really likes to bike.
But that's not all.
Delaware has leapt ahead among states in the Bicycle Friendly States ranking, from 31st, to 18th, to 10th and, this year, to 5th in the entire country. We are now ranked as the most bicycle-friendly state east of the Mississippi River. And that is largely due to the fact that cycling is not just something that Jack Markell likes to do in his free time. Governor Jack Markell also considers cycling to be part of his job.
In 2010, Governor Markell was the first sitting governor in the United States to address a National Bike Summit in Washington, DC. (Three years later, he is still the only governor in the United States to have addressed a National Bike Summit.) He has included cycling in his last two State of the State speeches. (As far as we know, he is the only governor in America to have done that, too.) He has appointed a cycling-friendly Secretary of Transportation and proposed, and won, unprecedented funding for cycling.
At Bike Delaware, we say: "It's good to be smart. But it's even better to be lucky." We didn't elect the most bicycle-friendly governor in America. But we're perfectly fine with having him here.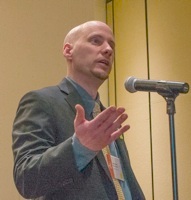 James Wilson is the executive director of Bike Delaware.
RELATED:
• The most bicycle-friendly state east of the Mississippi River
• Two State of the State speeches in a row
• Six Civic Groups Ask Governor Markell for Visionary DelDOT Secretary
• Delaware General Assembly Votes $13.25 Million for Walking and Bicycling