Here they come.
Thanks to the City of Newark Department of Public Works, "Bikes May Use Full Lane" signs have been deployed on Newark's Main Street.
The signs complement, and reinforce, the city's recent installation of "sharrows".
While most motor vehicle traffic on Main Street is, unfortunately, just through traffic without any local destination, the same is not true of bicyclists. If you see a bicyclist on Main Street, the odds are that she has a destination there, whether it's a restaurant, store or bank. So encouraging even more bicycling on Main Street just makes good business sense.
As one of just two officially-ranked "bicycle-friendly" communities in Delaware, we are not surprised at all by yet another example of Newark's leadership. But we've said it before and we'll say it again: Way to go, Newark!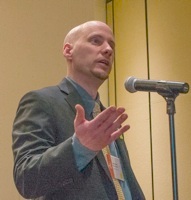 James Wilson is the executive director of Bike Delaware.
 RELATED:
• The Sharrows Have Landed (On Main Street In Newark)
• Newark achieves LAB's Bronze Bicycle-Friendly Communities award!