The front page headline in yesterday's News Journal described discussions in Wilmington about whether to remove Wilmington's Chief of Police.
Wilmington's murder rate is more than 5 times higher than New York City's and one of the highest among small cities in the country. But the current Chief of Police in Wilmington, Christine Dunning, has only been on the job for 11 months.
Given her short tenure, how fair is it to remove Chief Dunning based on Wilmington's awful crime ranking among similarly-sized cities? The FBI itself cautions against using their crime rate data to "rank" police agencies:
"Since crime is a sociological phenomenon influenced by a variety of factors, the FBI discourages ranking the agencies and using the data as a measurement of law enforcement effectiveness." [1]
The context of the FBI's caution is that crime is a complicated issue that varies from place to place. If crime prevention in Wilmington were a simple matter of either a more sophisticated deployment of police resources, or just additional police resources, then crime in Wilmington should be going down. In fact, however, crime is actually getting worse in Wilmington.
It is very hard to see how Wilmington's police can solve Wilmington's crime problem by themselves.
To help the police do their job, we need to fully accept the FBI's point that crime prevention is not only, or even primarily, a matter of "law enforcement effectiveness." And we need to think creatively about how to prevent crime using other strategies.
Hello "traffic calming" and "neighborways."
"Traffic calming" consists of engineering measures (e.g. speed bumps, speed tables, narrowed streets, traffic circles, traffic diverters, etc.) that reduce motor vehicle speed and/or volume.
A "neighborway" is a particular street that has been traffic calmed so that it is more inviting to pedestrians and cyclists. Portland, Oregon may have developed more neighborways (which they call "neighborhood greenways") than any other city in the country. We can learn from them how to do neighborways right. And, equally important, we can learn how much it costs to do neighborways right: about $140,000/mile.
In Portland, people love, love, love their neighborways for reasons that have nothing to do with crime prevention. As the Portland Bureau of Transportation planner who leads their neighborways program says,
"Neighborhood greenways are a physical manifestation of safe routes to school."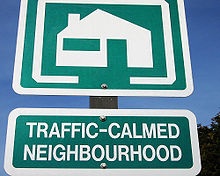 As this great video notes, in Portland kids walk to school at a rate three times greater than the national average. And whereas nationally only about 1% (1%!) of kids bike to school, in Portland 10% of kids do!
But in Wilmington, the potential payoff is much greater than in Portland because here the dividends may also include public safety. As the urbanist Jane Jacobs noted, the most effective deterrent to crime is not a muscular and aggressive police force but simply the "natural surveillance" of streets that are full of people going about their everyday activities.
Tell us what you think of a "neighborway" for the city of Wilmington (or Dover or Newark or…) in the comments sections here.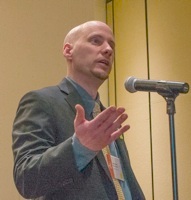 James Wilson is the executive director of Bike Delaware.
RELATED: 
• Wilmington mayor lacks council backing on police shakeup
• In Portland Every Day is Walk & Bike to School Day (VIDEO)
• Can Traffic Calming Reduce Crime in Wilmington?
• How to Make a Great "Neighborway" in Wilmington
• West Palm Beach Traffic Calming
• A New Way of Understanding "Eyes on the Street"
• Fight Street Crime with Speed Bumps and Crosswalks
• Jane Jacobs on neighborhoods, placemaking, and active living