November 8: Bicycle Advocacy for the Busy Majority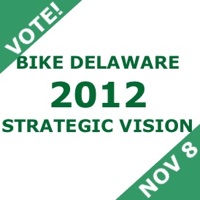 There are a lot of worthy things that Bike Delaware could work on in 2012 (see the enormous list below).  But we learned this year that if you want to get big things done, you have to be smart, strategic and focused.
So please help us out by taking a look at the list below (blue text are hyperlinks to more information).  And then join us TODAY and vote on the goals that you think we should focus on in 2012 in order to build on our remarkable success in 2011.
Bike Delaware 2012 Priorities and Strategic Vision Discussion and Vote