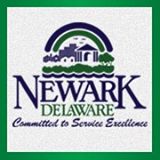 Just missing recognition as a Silver-Level Bicycle Friendly Community, Newark has again been recognized as a Bronze-Level Bicycle Friendly Community by the League of American Bicyclists:
• Newark 2014 Bicycle Friendly Community "Report Card" (League of American Bicyclists)
• Additional feedback for Newark from League of American Bicyclists
Newark Bicycle Committee Chair Mark Deshon praised Newark's recent efforts. "In addition to the Pomeroy Trail that has been added since we were first awarded bronze status, a great community bicycling resource—the Newark Bike Project—was created, Elkton Road has been converted to South Main Street and made much more bikeable, shared-lane markings (or "sharrows") were added to Main Street, and more sharrows have been laid down recently in needed areas based on the recommendations of the Newark Bicycle Committee," said Deshon. "More momentum is being generated for more attention to more areas for improvement throughout the city, and I hope that we'll not only reapply soon but see the University of Delaware apply for and receive Bicycle Friendly University status from the League within the next couple years as well."

Newark, first named a Bronze Bicycle Friendly Community in 2010, is one of just two ranked communities in Delaware. (The other is Lewes, also ranked Bronze.)
Wilmington Area Planning Council planner and Newark Bicycle Committee (NBC) member Heather Dunigan was the primary author of the BFC application for Newark. "We understand that it was a close vote between the League upgrading Newark to silver level vs. simply honoring Newark with a retention of its bronze status." Dunigan said. "Realizing we were very close to attaining silver status, the League encouraged us to resubmit within the next couple years."
Between now and Newark's next application, Newark needs to break out of the large pack of  "Bronze" communities in the U.S. and do something that will clearly mark it as a Silver community.
One of the key recommendations from the League is for Newark to move forward with Newark's (and Delaware's) first protected bike lane.
People for Bikes counts that there are approximately 200 protected bike lanes in 53 cities in the U.S. But where they have been installed on the east coast, it has been by Silver Bicycle Friendly Communities like New York, Washington DC and Philadelphia.

Not satisfied with just 2 examples of how to do a protected bike lane? For the truly discriminating traffic engineer, here are 14 (!) different ways to do a protected bike lane!
The path to Silver ranking for Newark…is a protected bike lane!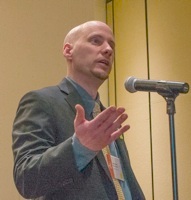 James Wilson is the executive director of Bike Delaware.
RELATED: 
• Newark 2014 Bicycle Friendly Community "Report Card" (League of American Bicyclists)
• Additional feedback for Newark from League of American Bicyclists
• Protected Bike Lanes Mean Business
• 24 States, 53 Cities: Protected Bike Lanes Have Become as American as Pizza 
• Philadelphia's Brand Spankin' New Protected Bike Lane
• All Bike Delaware articles on protected bike lanes
• 14 Ways to Make Bike Lanes Better
• The Rise of The North American Protected Bike Lane
• Instant Protected Bike Lane? Just Add Armadillos
• Pomeroy Trail Opens in Newark
About The Bicycle Friendly Community Program.
The BFC program provides a roadmap to building a Bicycle Friendly Community and the application itself has become a rigorous and an educational tool in itself. Since its inception, more than 769 distinct communities have applied and the five levels of the award—diamond, platinum, gold, silver and bronze—provide a clear incentive for communities to continuously improve.
To apply or learn more about the free BFC program, visit bikeleague.org/content/communities.
About the League of American Bicyclists
The League of American Bicyclists is leading the movement to create a Bicycle Friendly America for everyone. As leaders, our commitment is to listen and learn, define standards and share best practices to engage diverse communities and build a powerful, unified voice for change. For more information or to support the League, visit www.bikeleague.org.