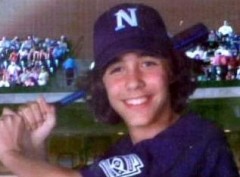 We remember Michael Gropp, who was killed on April 6, 2010 – 2 years ago today – at the intersection of Rt. 273 and Brownleaf Road east of Newark. Michael and his girlfriend lived on opposite sides of Rt. 273, which is 82 foot wide and has 4 travel lanes near Michael's neighborhood. Michael was walking his girlfriend home at 10PM when he was struck and killed while trying to cross Rt. 273. Michael was 16 years old.
Brownleaf Rd where it crosses Rt. 273 here is also "Delaware Bicycle Route 1".
Michael has not been forgotten by either his friends or his family; on April 15, they will hold a memory walk in his honor.
RELATED:
• Michael Gropp Memory Walk is April 15
• Senator Peterson Praises DelDOT for Improving Pedestrian Safety
• Improving Nonmotorized Safety and Mobility with Infrastructure at Arterial Road Signalized Intersections
• 16 year old killed while crossing Rt.273 on Bike Rt.1
• Another Pedestrian Struck at Rt. 273 and Brownleaf Road
• Who Will We Blame This Time?