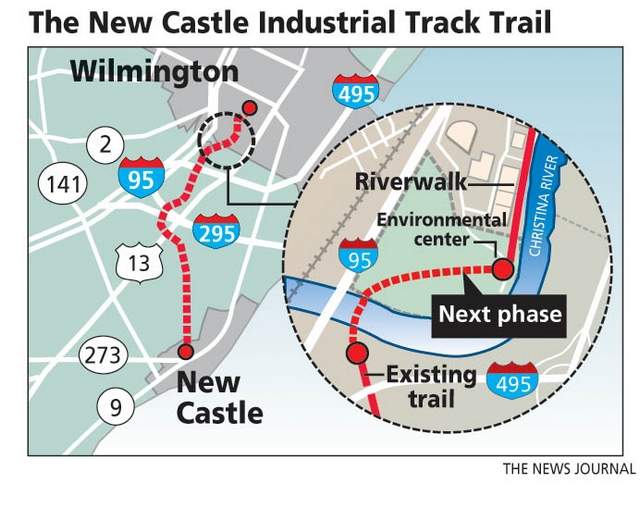 by Melissa Nann Burke
The News Journal
February 15, 2013
Relatively few Delaware workers commute by bike, but they might reconsider when cyclists are whizzing by them on an off-road trail visible during rush-hour backups.
"We're talking a completely segregated bike path that would allow me to go from New Castle to Wilmington without having to deal with any traffic," said attorney Marty Lessner, a bike commuter and a member of the state Council on Transportation.
The New Castle Industrial Track Trail would largely follow the path of a 6-mile rail line that once ran between Wilmington and New Castle. Several sections are open for use, but the keystone link between I-495 and the Wilmington riverfront is several years away.
"Within this project, this section is probably the most challenging, potentially the most costly and ambitious of all the bike trails we're looking at in the state," said Geoff Sundstrom, a spokesman for the state Department of Transportation.
That's why officials are determining what design would be the most cost effective, attractive and direct, while trying to reduce the trail's impact on the surrounding wetlands at the Russell W. Peterson Wildlife Refuge.
"This whole process is part of the governor's plan to improve health and well-being by offering alternative transportation systems and recreational opportunities," said DelDOT's Jeff Niezgoda, program manager for the First State Trail and Initiative Program.
Read entire article in the News Journal HERE>>>
RELATED:
• Wilmington-New Castle Greenway: It's the red route
•  New Castle Industrial Track – Phase3 Feasibility Study (DelDOT)
• Archive of all past Bike Delaware articles on Industrial Track
• Like Lewis and Clark Reaching the Pacific Ocean
• Why are we hiding the Industrial Track Rail Trail?
• 1st Ever CMAQ-Funded Bike Project in Delaware History
• Coalition wins key support for rail trail
• Eight civic and business groups call for completion of Industrial Track