"When I first saw the headline, I figured either LAB had gone crazy or else I had." – recent comment by Bike Delaware reader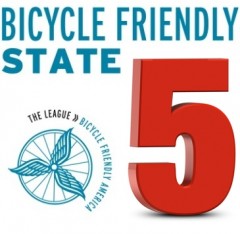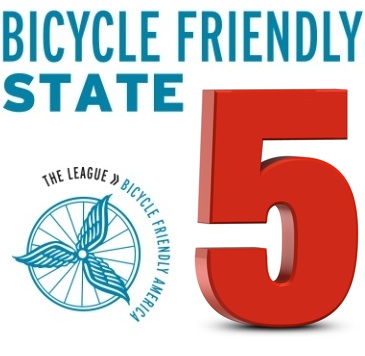 Just a few years ago, Delaware's "Bicycle Friendly State" ranking by the League of American Bicyclists (LAB) was somewhere in the 30s among the 50 states. In 2011, we were ranked 18th. Then, last year, we cracked the top 10 and started eyeing the #1 spot. (In fact, we said getting to #1 was the #1 reason to join Bike Delaware.)
This year the LAB announced its new Bicycle Friendly State rankings on May 1. Delaware had not only managed to hold on to its #10 ranking, we had shot up to #5! And the only four states ranked higher were all western states, making Delaware the most bicycle-friendly state east of the Mississippi River.
When a reader recently commented that "when I first saw the headline, I figured either LAB had gone crazy or else I had", we could understand.
So how do we explain our rapid ascent in the LAB rankings? Rather than just making up an answer ourselves, we thought it would just be easier to ask LAB. So we did.
According to Nicole Wynand, the manager of LAB's Bicycle Friendly State program,
"Governor Markell's vision to make Delaware one of the most walkable and bikable states in America has transformed the way transportation policy is developed and implemented in the First State. Delaware's impressive financial commitment to cycling, the proposed Trails and Pathways Plan, the recent 3-ft passing and vulnerable road user laws, and the strong support by advocacy groups and citizens has catapulted Delaware past great states for cycling like Massachusetts and Wisconsin. We see a lot of potential in Delaware to move up even further in the coming years."
So there it is. It's actually a simple explanation:
In terms of how we keep our new #5 ranking (or improve it), we have to execute on these promises. Everything except the two legislative successes is contingent on continued funding for cycling improvements. Delaware's Bicycle Friendly State "report card" just underlines that. And so does the same reader I quoted at the top of this article:
"Thanks for posting the actual report card. It explains how Delaware can rate so high in spite of my Delaware cycling experience being much worse than when I rode regularly in the South Bronx and other parts of New York City in the 1990s. When I first saw the headline, I figured either LAB had gone crazy or else I had. But none of the rating items is actually a measure of cycling *experience* or real conditions on the ground, so the divergence is perfectly understandable. And I realize that I live in a particularly bike unfriendly part of the state. Anyway, keep up the good work Bike Delaware! Change is slow."
If Bike Delaware had $10,000 laying around that we had to spend tomorrow on a public service announcement, it wouldn't be for a giant "Share the Road" billboard. But it might be for a giant billboard that said "CHANGE IS SLOW". Probably the most difficult single idea we strive to get out to the public AND to decision-makers is just that: Change is slow. The reason that change is slow is because the primary variable that controls the quantity and quality of bicycling in Delaware is not a regulation or a sign or even public or cultural attitudes. The primary issue is the bicycle-friendliness of the physical built environment. And that's not something we (or even Governor Markell) can snap our fingers overnight to change.
But just because the magnitude of the problem is huge doesn't mean we can't make Delaware more bicycle-friendly than it is right now. Indeed, every single year we have a huge opportunity in Delaware to do just that. How huge do you want? Is $400 million huge enough for you? Where does that number come from? That's the size of DelDOT's annual capital budget for transportation "improvements". $400 million. Every single year.
Here are our choices. We can take every last penny of that $400 million and spend it on more / larger / better roads. Or we can just spend most of it on more / larger / better roads and some of it on other transportation modes (including cycling). Bike Delaware is fighting for the latter. The vote by the critical committee of the Delaware General Assembly on whether any of next year's $400 million for transportation improvements will go to Bike and Pedestrian Improvements is within the next 4 weeks. Be sure to read www.bikede.org every day for the next 4 weeks to keep abreast of the latest in this fight, and for information about how you can make your voice heard for building a more walkable and bikeable Delaware.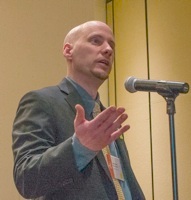 James Wilson is the executive director of Bike Delaware.
RELATED:
• Will the Delaware General Assembly Vote For Bike and Pedestrian Improvements This Year?
• Reason #1: Because we can make Delaware the most bicycle-friendly state in America