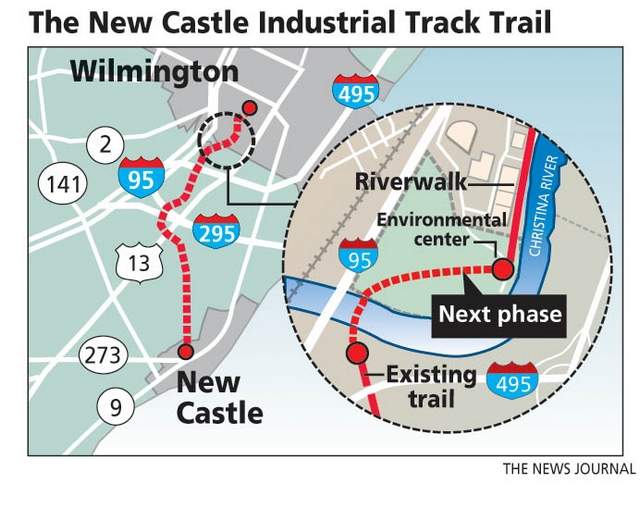 Published in the New Castle Weekly
October 16, 2013
The New Castle Bike Rangers were treated to a sneak peak of the recently completed section of the Industrial Track by Bike Delaware Executive Director, James Wilson.
From the current end of the trail at the edge of the Christina River, the final destination – the Peterson Wildlife Refuge – could be seen. So close and yet of so far!
New Castle County recently built the 2 1/2 mile section between I-295 and the Christina River. This new section is not yet connected at the Boulden Boulevard end of the Industrial Track due to scheduled construction at the both the Route 13 and I-295 underpasses that currently separate the two parts of the trail.
The completed Industrial Track will give New Castle families easy access by a flat, 6 mile bike ride to a variety of entertainment options on the Wilmington Riverfont including attending a Blue Rocks game, learning about marsh wildlife at the refuge or watching an IMAX movie.
For more information about Bike Delaware and future plans to improve biking in Delaware, visit www.bikede.org.
Bike Delaware Note: DelDOT plans to move the final phase (phase 3) of the Industrial Track to construction in the spring of 2016. The two year delay is due primarily to the time it takes to secure the necessary environmental permits for the project.
RELATED
• News Journal: "State agencies draw up a dream trail for cyclists"
• Wilmington-New Castle Greenway: It's the red route
•  New Castle Industrial Track – Phase3 Feasibility Study (DelDOT)
• Archive of all past Bike Delaware articles on Industrial Track
• Like Lewis and Clark Reaching the Pacific Ocean
• Why are we hiding the Industrial Track Rail Trail?
• 1st Ever CMAQ-Funded Bike Project in Delaware History
• Coalition wins key support for rail trail
• Eight civic and business groups call for completion of Industrial Track