It's late October but it will nevertheless be 80° (!) today at 2PM in Lewes for the official opening of the first phase of the Lewes-Georgetown Trail. This is the first 1.1-mile section – from Gills Neck Road to Savannah Road in Lewes – of what will eventually be a 10 foot wide paved trail that extends a total of 17 miles all the way to Georgetown.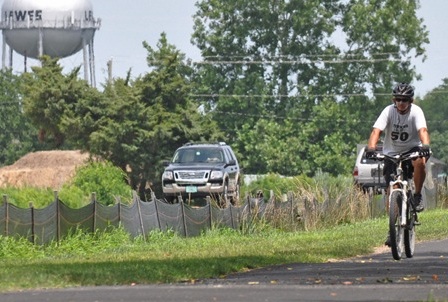 WHEN: Wednesday, October 19 at 2 p.m.
WHERE: The event will be held on the grounds of the Lewes Public Library, 111 Adams Avenue, Lewes, Delaware
WHO: Governor Jack Markell, DelDOT Secretary Jennifer Cohan, DNREC Secretary David Small, Delaware Speaker of the House Peter Schwartzkopf, State Senator Ernie Lopez, and Lewes Mayor Ted Becker
While celebrating the opening of this first trail section, the greater significance of today's milestone is perhaps the way it now sets up Phase II of the trail. Phase II will connect the increasingly populous communities west of Route 1 in Sussex County to Lewes and (via the Junction & Breakwater Trail) to Rehoboth. Crucially, Phase II of the Lewes-Georgetown Trail will also provide a much-needed and fervently desired safe, grade-separated crossing of the extremely busy and dangerous Route 1, going under the Nassau Bridge.
The Lewes-Georgetown Trail is an ambitious project which would not be possible without the support of the Delaware General Assembly, Sussex County Council and Governor Jack Markell:
In May of 2011, the Delaware General Assembly passed Walkable Bikeable Delaware, which directed DelDOT to "create multi-use paths for pedestrian and bicycle user travel within and between cities and towns in Delaware on independent right-of-way outside of the right-of-way of existing roadways."
In September of 2011, Sussex County Council identified the Lewes-Georgetown Trail as a County transportation priority.
In October of 2011, Governor Markell included the project in his huge and ambitious First State Trails and Pathways Initiative.
Ray Quillen, who grew up in Lewes, has long waited for progress on the Lewes-Georgetown Trail. In fact, he has been so impatient for the trail to get started – and especially for the Phase II of the trail that will go under the Nassau Bridge – that he personally roughed out an unpaved section of trail underneath the Nassau Bridge. The Cape Gazette called Quillen a cyclist on a "mission" for the trail.
"I hope that the second phase can be started soon," said Quillen.
RELATED:
• Lewes-Georgetown Trail Launches!
• Go where there is no path (crossing Route 1) and leave a trail (under the Nassau Bridge!)
• Lewes cyclist on mission for new trail (Cape Gazette)
• DelDOT Public Workshop on Phase I of Georgetown to Lewes Trail
• Why the Georgetown to Lewes Trail Attracted Us to Invest in Delaware 
• Sussex County Council Includes Lewes-to-Georgetown In Its List of Transportation Priorities
• Public Prefers Rail-With-Trail for Lewes-Georgetown Route at DelDOT Workshop
• Lewes to Georgetown Route is Overdue
Sally Cannon
,
Christopher Wertz
,
Jaime Schneider Martin
,
Lexie Samick
,
Connie Kolasinski
,
Sarah Wren
,
Bill Pearson
,
Laura Tolson
,
Kim Whaley
,
Amber Nicole
,
Amy Eader
,
Justin Williams
,
Wayne Davis
,
Andrew Ritchie
,
Kimberly Frock
,
Sally Irwin
,
Philip Marvil
,
Carol Houck
,
Olga Jurado
,
Sue Daly Martin
,
Lou Montgomery
,
David Johnson
,
Brian Welch
,
David Mangler
,
Gary Simpson
,
Tamara Morgan
,
Complete Communities Delaware
,
Bill Shull
,
Phyllis Silverio Bolton
,
Mike Fraundorfer
,
Kevin Farrell
,
Tom Bass
,
Deanna C. Loeb
,
Scott Crawford
,
Mike Kennedy
,
Eric Anderson
,
Kathleen Vopalecky
,
Dorothy Steele
,
Rex Shipp
,
Donette English
,
Emily Williams
,
Julie Schmidt
,
Liz Houghton
,
Walt Borders
,
John Feeley
,
Andrew Collier
,
Elizabeth Catt
,
Todd Howell
,
Jeff Lawrence
,
Gordon Roth
,
Ginamarie Ruggerio Davis
,
Bill McCormick
,
Paula Gatos
,
Sandy Whitby
,
Dawn Hollinger
,
Dawn Ryan
,
Dolores Strahorn Sebastian
,
Martin Hutchison
,
Tracy Cohan
,
Jim Taylor
,
Jeffrey Gordon
,
Benjamin Hannon
,
Kerry Smith
,
Steve Venett
,
Revolution Cycles, Inc.
,
Paul Kratt
,
Lisa Cohen Lessner
,
Karen Kelly
,
Daniel Coleman
,
Christiane Neaves
,
Jim Esrey
,
Kevin Krantz
,
Jan Crooker
,
Jim Paslawski
,
Margaret Bretz
,
Jennifer Gomez
,
Marie LaDuca
,
John Cochran
,
Alfonso Castillo
,
David Teague
,
Karen Karwoski
,
Mary White-Morales
,
Judy Campbell
,
P. Jane Walmsley
,
Kelley Barnes Grovola
,
Susan Puckett Terranova
,
Gene Dean
,
Judy Thompson Cook
,
Elsie Mast
,
Licinia Lulu Barrueco Kaliher
,
Marianne Caven
,
Sandy Mayhew
,
Dawn Marie
,
Anthony Waterboy Parkinson
,
Brenda Joy Good
,
Cindy Hanagud
,
Marty Van Goor Pratt
,
Betty Allen Sullivan
,
Alicia Rolls Thomas
,
Joshua Caldwell
,
Brian B Nyamu
,
Drew Thomas
,
Chris Raia
,
Josie Marsh
,
Cindy Small
,
Mark Wise
,
Victoria Hill Mays
,
Sheree Davis
,
Karen Findlay
,
Anita Samis
,
Adam Pettengell
,
Karen Kaljulaid Larkin
,
Jennifer Noonan
,
Maribeth LaBorde Przywara
,
Robert Selgrade
,
Jeanene Johnston
,
Sherry Rees
,
Barbie Gills Casper
,
Donald Ray Smith
,
Mike Pennington
,
Shana Powell
,
Mary Havrilla
,
Shane Pasley
,
Steven J Meadows
,
Sherri Colledge Gebhart
,
Leah M. Reynolds
liked this post