Yesterday, U.S. Senator Patrick Toomey (Pennsylvania) introduced an amendment in the Senate Finance Committee to de-fund the federal Transportation Alternatives Program.
Ugh. Not again.
Five years ago, after the previous federal surface transportation bill expired and the U.S. Congress started a long debate about its replacement (eventually known as "MAP-21"), a series of congressional yahoos offered amendment after amendment after amendment after amendment after amendment like Senator Toomey's to de-fund the federal Transportation Enhancements, Safe Routes to School and Recreational Trails programs. After 3 years of this, Congress ended up partially de-funding these programs when it passed MAP-21 in probably the worst defeat in federal transportation policy in 20 years.
Now Senator Toomey is at it again, picking up where things left off in 2012 to finish the job and completely eliminate the federal Transportation Alternatives program altogether (the much reduced in size successor program under MAP-21 to Transportation Enhancements, Safe Routes to School and Recreational Trails).
But here's the thing. Senator Toomey has introduced his amendment in the U.S. Senate Finance Committee. This committee is chaired by Senator Ron Wyden (Oregon). Delaware's own Senator Tom Carper also sits on this committee. There's just no way that Senator Toomey's amendment ever escapes alive out of Senator Wyden's and Senator Carper's committee.
Senator Toomey, don't you have better things to be doing than wasting everyone's time with this amendment? When the people of Pennsylvania sent you to Washington DC, was it with a mandate to annihilate the only federal program dedicated to walking and cycling? Was that part of your platform? Or did you you have this brilliant idea only when you arrived in the fevered swamps of Washington DC?
Meanwhile, back in Delaware, the Delaware General Assembly will be debating House Bill 425 soon. This bill includes $4.1 million for Delaware's Transportation Enhancements program. (For historical reasons, in Delaware nearly all of the money in the Transportation Enhancements program goes for sidewalks and 'streetscaping'.) But, on top of this, House Bill 425 will add $6.3 million in other state and federal discretionary funds for "Bike and Pedestrian Improvements" ($3.7M) and "Statewide Trails and Pathways" ($2.7M). (Unlike Transportation Enhancements, nearly all of this $6.3 million will go for bikeways and very little will be for sidewalks.) And that's actually about a million dollar bump over Governor Markell's (the most bicycle friendly governor in America) original request in January despite the fact that other priorities actually got cut in the bill.
This additional $6.3 million in state commitment to cycling by the Delaware General Assembly is not as impressive as the $13.25 million for cycling it  voted in 2012. But it's still very cool, and it represents a serious and substantial ongoing commitment by state government leadership to make Delaware the most bicycle friendly state in America (with funding that state leaders could have chosen to put to a different use).  The contrast with Senator Toomey's shenanigans in Washington DC today could not possibly be greater.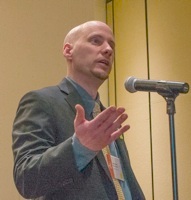 James Wilson is the executive director of Bike Delaware.
RELATED:
• Transportation Enhancements Under Attack! (2009)
• Mica, Inhofe Oppose Transportation Enhancements, Safe Routes to School and Recreational Trails (2011)
• It's Good to Have Friends When the You Know What Hits the Fan (2011)
• Senator Paul's Anti-Bike Amendment Fails! TE survives again (2011)
• Horrible Surface Transportation Bill Unveiled – Bicycle Programs Eliminated (2012)
• Boxer-Mica Law Eliminates 20 Year Transportation Enhancements Program (2012)
• Toomey Amendment (2014)